CD Farewell To The Island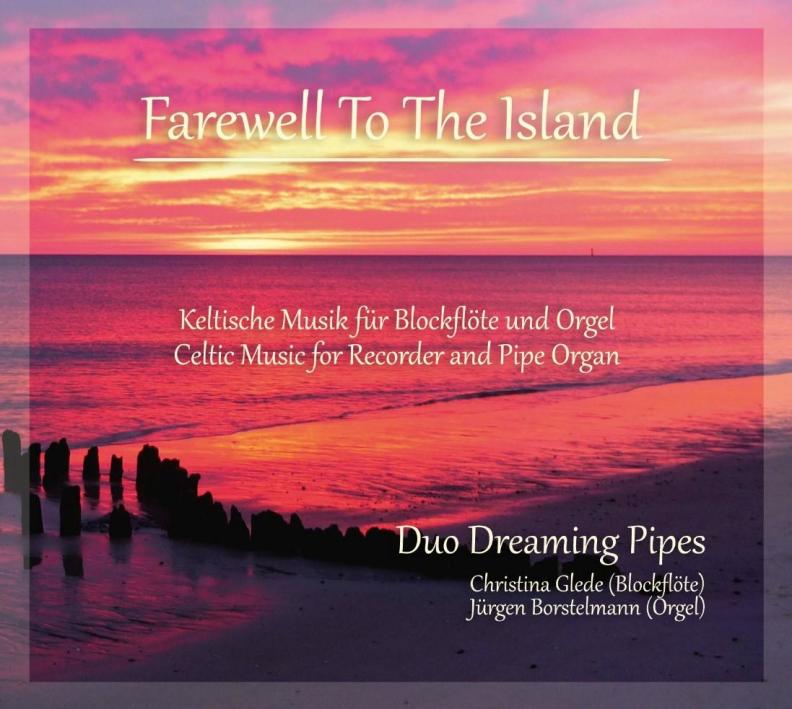 Keltische Musik mit dem Duo "Dreaming Pipes"
Christina Glede (Blockflöte und Bodhran) Jürgen Borstelmann (Orgel und Arrangement)
Das Projekt "Dreaming Pipes" wurde 2005 auf Sylt gegründet, als sich die beiden Musiker Christina Glede (Blockflöten, Bodhran, Gesang) und Jürgen Borstelmann (Orgel) der keltischen Musik zuwandten. In der Folgezeit etablierten sich die "Keltischen Konzerte" in der Hörnumer Segel-Kirche zu einem beliebten musikalischen Ereignis der Sylter Konzertsaison. Im Jahre 2012 spielte das Duo eine CD ein.
CD "Farewell To The Island"
​Die vorliegende CD "Farewell To The Island" wurde in der einzigartigen Akustik der Hörnumer St. Thomas-Kirche aufgenommen. Jürgen Borstelmann arrangierte 18 traditionelle irische und schottische Lieder und Tanzstücke für Blockflöte und Orgel, eine für keltische Musik eher ungewöhnliche Instrumenten-Kombination. Die farbigen Register der Hörnumer Hillebrand-Orgel mit ihren Labialpfeifen und dem schnarrenden Dulzian verbinden sich in der hervorragenden Akustik des Kirchenraumes zu reizvollen Klangmischungen. Durch die eigenen hinzukomponierten Vor- und Zwischenspiele und die interessanten klanglichen Elemente erscheinen die Melodien in einem neuen Gewand, dabei jedoch den Grundcharakter der keltischen Musik wahrend. Viele Stücke haben einen meditativ-träumerischem Ausdruck mit einer bisweilen engelhaften Klanglichkeit. Daneben stehen einige schnelle Tänze, bei denen teilweise auch eine irische Rahmen-Trommel (Bodhran) erklingt.
Diese CD kann für 15 € (zzgl. Porto + Verpackungskosten) bestellt werden unter meiner
E-Mail-Adresse: juergen.borstelmann@t-online.de
Celtic Duo "Dreaming Pipes"
Christina Glede (recorder, bodhran) Jürgen Borstelmann (organ, arrangement)
Project Dreaming Pipes came into being on Sylt, Germany's northernmost island, in 2005. Both members of the duo come from an ensemble called Amabile that have played together in different setups in the evangelical church parish of Hörnum-Rantum since 1994. Whereas the repertoire of that ensemble comprises mainly works from the Baroque period, the two musicians Christina Glede (recorder, bodhran) and Jürgen Borstelmann (organ) soon began to embrace Celtic music, too. Their Celtic Concerts (Keltische Konzerte) at St. Thomas Church in Hörnum have developed into a popular muscial event since that time.
The traditional Irish and Scottish songs and dance pieces on this CD have been arranged by Jürgen Borstelmann for recorder and organ. Rather unusual for today's Celtic music, this combination of instruments brings about an appealing commixture of sound. The colourful timbre of Hörnum's Hillebrand organ with its flue pipes and the buzzing of its reed pipes merges superbly with the emanations of the recorder. These interesting sound elements as well as the added preludes and interludes give the tunes a new auditory freshness while retaining their original Celtic character. Many of the pieces have a dreamlike or meditative quality. The spiritual nature of Celtic music finds expression in audio arrangements that sound angelic at times. There are also some fast-paced dances, occasionally accompanied by the Irish frame drum, the bodhran.
This CD can be ordered for 15 € (plus postage + packaging costs) at the following e-mail-address: juergen.borstelmann@t-online.de
Titelliste CD "Farewell To The Island"
[1] The Virgin Of The Sea
[2] The Red Rose
[3] Old Jerry Doyle
[4] The Boatman
[5] Chalk Sunday
[6] Song Of The Fairies
[7] Has Sorrow Thy Young Days Shaded
[8] My Evelyn Gave Me A Secret To Keep
[9] O South Wind
[10] Dark Island
[11] Limerick's Lamentation
[12] Johnny From Gandsey
[13] Once Flocks I Did Attend
[14] The Mermaid's Song
[15] The OId Grey Goose
[16] Lullaby
[17] Sitting In The Stern Of A Boat
[18] Farewell To The Island